Mr Colour Maker will teach children all about colours and colour creation in a highly engaging and fun way with no mess!

With Mr Colour Maker, the magic of learning about mixing colours is good clean fun.

Ages 2y+
Mr Colour Maker
3 x small pots in primary colours (red, yellow and blue)
A magical mixing brush

4 x AA batteries required (not included)
Noah was at nursery when it arrived, and as I'm a stickler for "test driving" their toys before they play, I got it out the box and Isaac was all over it like a rash. Obviously he was too young to understand the toy, but he took great satisfaction in stacking the little paint pots and having a chew while I rummaged for batteries to put in the bottom of the paint can.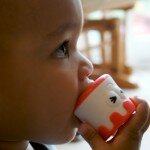 From what I can gather, there are sensors that pick up info from the pots and brush, which makes appropriate lights in the can light up – you put the red paint in, the can lights up red, you put the blue paint in, the can lights up blue etc. Interestingly, there's a setting where you are invited to "mix colours"; you put the relevant paints in, "stir" with the paintbrush and it lights up and tells you what colour you just made.
Noah finally got to play with it, only played for 10 minutes before the lid came off – and all he did was lift it up a touch too far. He hadn't yet tried to carry the can by the lid as he understands to carry it by the handle.
Both Noah and Isaac quickly grasped concept of "pouring" paint in the can, and Noah soon started choosing the right colours asked for by the can. He didn't understand mixing them; perhaps it still very early for him to understand? However, hubs and I reckon he'd need to actually mix paints to see it happening and therefore comprehension.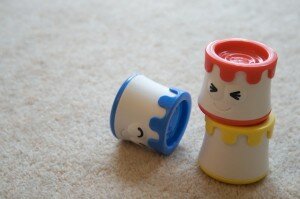 A few days later (as I like to give toys in this house a "cooling off" period),  frustration soon set in. Both boys struggled trying to close the lid with the brush and the pots in correctly; the wire/cable from the brush to the pot often got in the way. Soon after it was only a matter of time before the lid came off easily all the time, and now it very rarely stays on. The kiddos aren't rough with it, as it were, but it only takes one of them to pick it up by the lid or get frustrated trying to close it, for it to come off easily.
Isaac still loved putting the paintbrush in the can to make it "sing", and found it hilarious that the can ONLY sang bits of his song whenever the paintbrush was in. Needless to say, he kept dipping it in and out to make the can start and stop singing!
On the whole, the Mr Colour Maker is a GREAT idea, both D and I loved the concept. However, we were a little disappointed with the design and so perhaps it's better suited to 3y+, whereby they might have that further understanding and less frustration. His voice is nice and gentle, not grating (like many), it's polite (says please and thank you!) and is pitched at just the right level of friendliness. He stops talking after about 30 seconds of inactivity, in case you forget to turn it off with the button at the bottom. So just beware he'll start talking to you if he gets thrown into a toybox…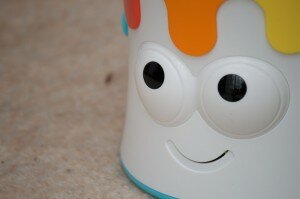 This product was sent to me directly from Tomy for the Smalls and I to review.